Wild Goose Gallery &
Frameworks, LLC
A Decorative, Distinctive & Unique
Shopping Experience!
Bedrock Tree Farm uses certified pure essential oils, phthalate free fragrance oils, and dyes that are formulated with eco-friendly ingredients. All wicks are cotton or wood. They use 100% SOY WAX made from soybeans grown in the USA. Soy wax is considered more environmentally friendly than paraffin wax. This is because soy wax is made from soybeans (a renewable resource), whereas paraffin wax is made from crude oil (a nonrenewable resource). All candles start with a Fir Needle Soy Wax Base with combined essential oils and fragrances like Juniper, Lavender, Beach Rose, Lemon Grass, Bayberry, and Shiso to make a clean burning awesome smelling candle.
Receive a free candle tool with any wood wicked candle purchase. As with any wood fire, occasionally the flame will get lazy and need a little "stoking". Boost it back up with this wick stoker. You can also use this tool as a wick dipper for cotton wicks and to help clean wax from the edges into the pool of wax if necessary.
Most important thing - If one of the wicks goes out, do not dig out the wax around it and relight. Big mistake. Let the other wick/wicks burn the wax down until the remaining unlit wick is visible at least 1/4th inch above the melt pool and then relight it. If you have the patience,let it melt down slowly until the unlit wick is above the wax pool. Or remove unmelted wax across the candle to level the top to expose all wicks evenly at least 1/4 inch above wax level.
If the wooden wick starts to dim, it may need a little stoking. Gently tap the burned edges to get the flame back up. If the wooden wick won't stay lit, you need to remove some of the wax so that the wick is a little more exposed to keep a nice flame.
There are loads of ways to reuse our candle jars once you have burned them to the bottom. We find that the best method for removing wax is to place the jar on newspaper and pour hot (even boiling) water in to the jar. Let it sit for 15 minutes or so. Begin removing the larger clumps of wax from the water. Line a strainer with a paper towel and pour the water from the jar. The paper towel will keep the wax from going down the drain. Wipe the jar clean and then wash with warm, soapy water or run through the dishwasher.
JAR CANDLE - Tureen 20 oz.



JAR CANDLE - Tureen 10 oz.



JAR CANDLE - Tureen 6 oz.



JAR CANDLE - Tureen 3.5oz.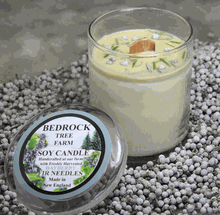 Libbey Status Jar 21 oz. with Wooden Wick
Libbey Status Jar 12 oz. with Wooden Wick
Libbey Status Jar 8 oz. with Wooden Wick
Libbey Status Jar 2.75 oz. with Wooden Wick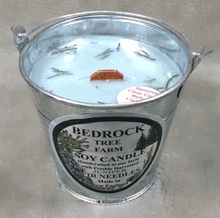 Votive in glass holder 2.5oz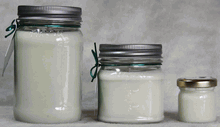 Candle Tin 16 oz - Triple Cotton Wick
Candle Tin 8 oz.- Double Cotton Wick
Candle Tin 4 oz. - Single Cotton Wick
Check out the Bedrock Tree Farm Catalog and
call us to see what we have left in stock!